Powerful Managed WordPress Hosting
Discover your WordPress sites' new abode. Experience rapid and fortified infrastructure, a global CDN ensuring swift delivery, cutting-edge caching at the edge, a network spanning 35 data centers, plus premium features at every tier. Dissatisfied with your existing host? Relocate your site seamlessly through our complimentary migration service!
Speed Up Your WordPress Site With Top-Performing Hosting
Our customers see up to a 200% speed boost simply by migrating to Coudhost. That's what happens when your tech stack is built on the fastest infrastructure on the market.

Host your WordPress sites on the highest-end CPUs and global availability thanks to Google's fastest servers and Premium Tier network. From these alone, our clients see up to a 200% boost in performance improvements.

Take advantage of 260+ locations worldwide to deliver blazing-fast pages by serving your cached assets from your website visitors' closest location. Coudhost's CDN is HTTP/3-enabled and has a one-click setup.
Reduce Load Times by 49% With Edge Caching
Cloud's Edge Caching makes serving cached content from multiple data centers possible with minimum setup. Plus, no separate plugins or add-ons are required here. Based on our tests, Edge Caching:
Cut time to first byte (TTFB) an average of 50%

Dropped time to transfer complete pages by almost 55%

Cut the time to serve cached WordPress HTML by an average of 50%+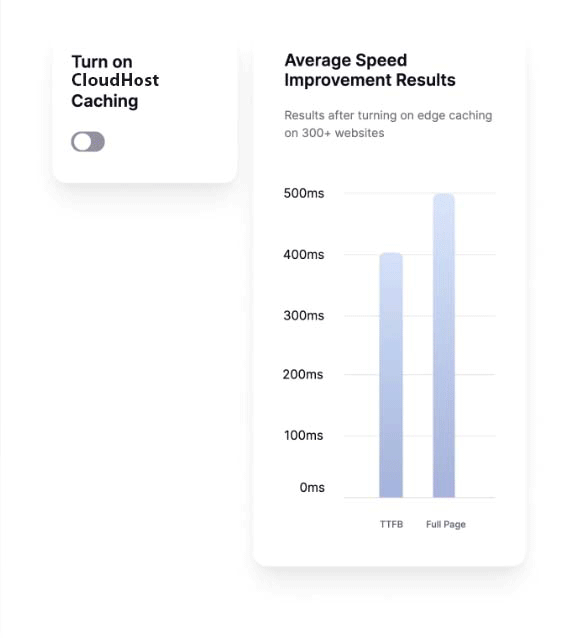 Troubleshoot Your WordPress Site in 1 Click
Cloud's Application Performance Monitoring (APM) Tool visualizes site speed issues. No matter your technical skills, easily identify performance bottlenecks and take action. Unlike our competitors, Cloud APM is home-built and included free in all plans. Say goodbye to external plugins or paid services like New Relic.
Choose Your Data Center for Maximum Speed
At no extra cost to you, select the region that works best for you and your customers. Choose from 35 data centers. All our locations offer Google's best C2 machines! Plus, our CDN has 260+ POPs giving your website a global presence and unequaled speed.
Data Centers (35) CDN Locations (260)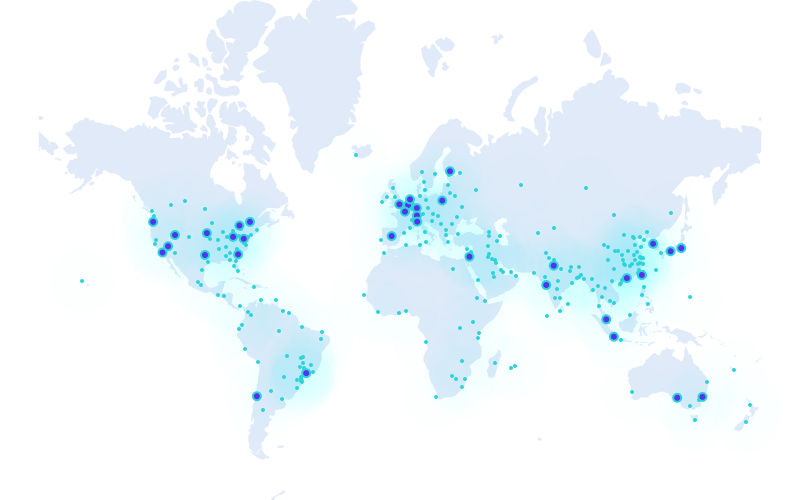 Top Security For Peace of Mind
Protect your WordPress sites and your business with enterprise-level security baked into every aspect of our WordPress hosting, from infrastructure to SLAs.
Manage your WordPress sites, databases, and even your applications in one place.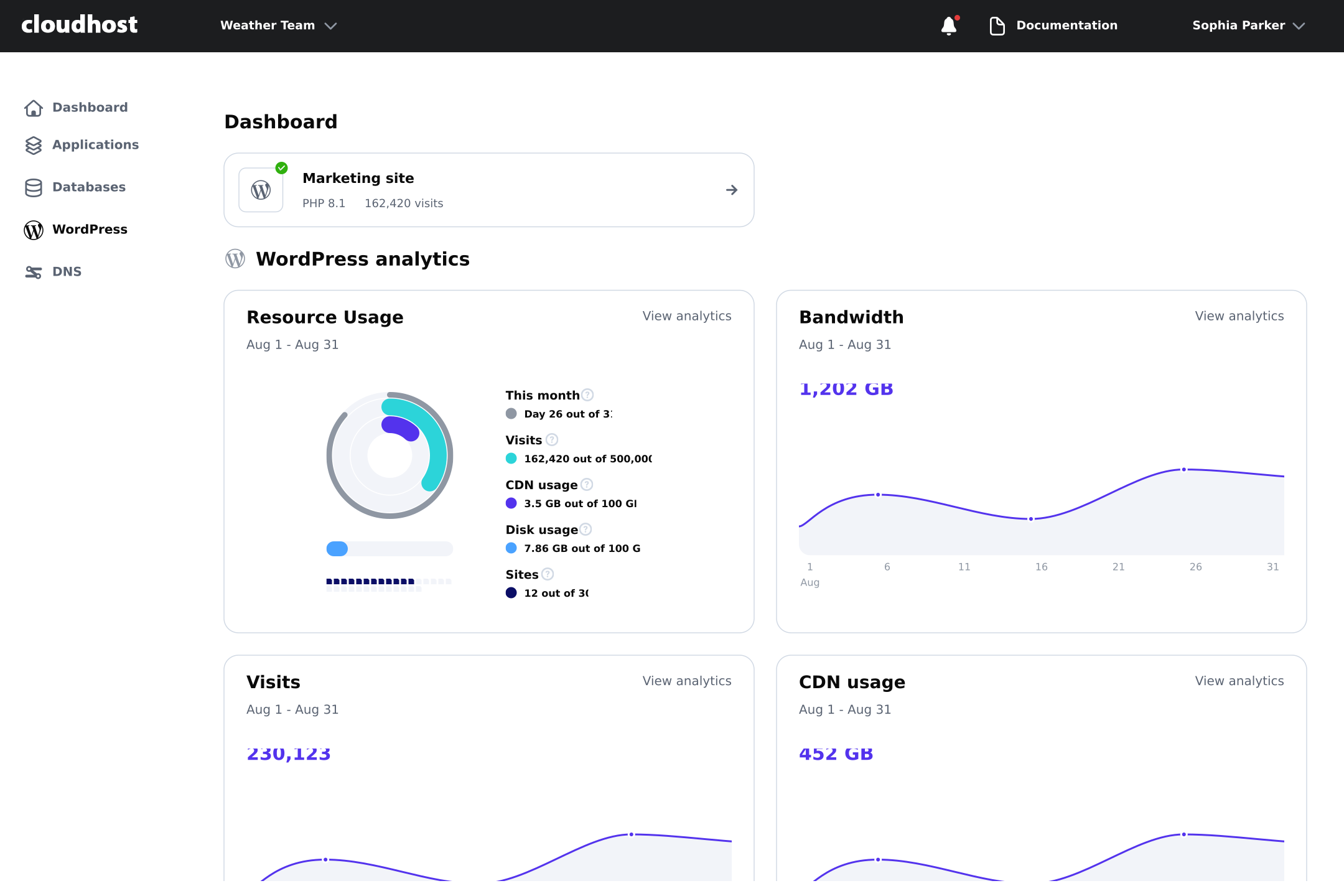 Site Management Tools
Take care of tedious tasks with a click of a button. Manage the cache, WordPress debugging, set up redirects, set up geolocation, switch on the CDN, and more.
Analytics
Monitor performance metrics like server resource consumption, CDN usage, user devices, PHP speed, cache, and geographic and IP information.
Early Hints
With little setup, improve page load times by up to 30% with Cloudflare's Early Hints web standard compatible with Chrome and Edge.
Staging Environments
Every WordPress install at Coudhost comes with its own staging environment that's separate from the live production site. Perfect for testing new versions.
Unlimited Users
Add unlimited colleagues or clients and get specific with granular access settings. Customize your existing development workflow.
PHP Versions
Improve your site's health by using the latest PHP version. Easily change your PHP engine with 8.0, 8.1, 8.2 available across all environments!
Optimization Tools
Enable/disable your CDN, clear cache, and control settings for image optimization, code minification (CSS and JS), and excluding files.
Site Preview Tool
Preview any migrated site prior to pointing it to its live domain via your WordPress temporary URL (sitename.Coudhost.cloud).
Search and Replace
Use this tool when moving a site from www to non-www URLs, changing to a new domain name, updating old shortcodes, content, strings of text, and more!
Free Local WordPress Development With DevCloudhost
One-Click WordPress Site Creation
Every Cloudhost site is powered by a modern hosting stack plus the latest version of WordPress Core.
PHP 7x and 8x Support
Test your site with the latest version of PHP in a safe environment. DevCoudhost supports PHP 7.2 – 8.2 and you can switch versions with just a few clicks.
Local Email Management
Cloudhost ships with a powerful SMTP server and email testing tool. Catch outgoing emails to debug contact forms, marketing automations, site notifications, and more.
Built-In Database manager
Cloudhost includes Adminer, a lightweight database management tool. Use Adminer to edit WordPress database tables, execute SQL queries, and more.
Advanced Tools For Developers
Developers can access all their favorite tools and settings right from the MyCloudhost dashboard.
Cloudhost API
Manage sites at scale with our open REST API. Create automations and workflows like creating new sites, gathering site data, automatting cache clearing or restarting PHP.
Database Access
Manage your database right from your MyCoudhost dashboard. Do a quick find and replace or access PHPmyAdmin for more advanced database searching, replacing, or modification.
WordPress Debugging
Enable WordPress' default debugging messages with just a click. You can also enable extensions to test non-minified CSS and Javascript, log errors, or save database queries.
Save $275+/Month With Cloudhost
Without cloudhost, you'll need to add these add-ons to get the same level of performance and security.
| | Cloudhost | Monthly Cost Without Coudhost |
| --- | --- | --- |
| Cloudflare Enterprise | | $250+Cloudflare |
| CDN | | $8.99Rocket CDN |
| Advanced Caching | | $4WP Rocket |
| Backups | | $7.41BlogVault |
| Migrations | | $5.83UpdraftPlus Premium |
| Uptime Monitoring | | $10Pingdom |
| SSL Certificates | | $4SSL.com |
| | Free | Total $275+per month |
One Platform, Dozens of Premium Hosting Features
Host all your web projects in the intuitive MyCoudhost dashboard. Enterprise-level features come free in every plan.
Google Cloud Platform
Highest CPU servers
Premium tier network
24/7 expert support
Uptime monitoring
User activity logs
35 data centers
CDN
Cloudflare DDoS protection
Two enterprise firewalls
Private network
99.9% uptime SLA
Simple, transparent pricing for all your web projects.
No per-seat pricing, all features included.